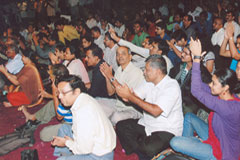 KELI is a Mumbai based organization registered as a Charitable trust striving to preserve, develop and propagate the classical cultural heritage of India, many of which are now on the verge of extinction. Keli has been active in this field for the last 25 years and during this period, has successfully handled a number of important projects in furtherance of its objectives. The annual Keli festivals, structured thematically every year, are well known to artists and art lovers of the City and have earned the organization a significant place in the cultural life of Mumbai.
Felicitations
Almost every Keli Festival witness the felicitation of the guardians of our art forms. Senior Gurus are honored with a Veera Shrunghala (Traditional Golden Bracelet) while the young talent and budding talent is awarded with conches in silver and Gold. Keli has honored morethan 50 such talents so far during the two decades of its activities.
Awareness programmes
Keli has done a number of awareness programs like lecture/Demonstrations, Seminars, colloquams, Interaction with artists, in schools like Jamnabhai Narsee, Vile Parle, Avalon Heights Vashi and educational institutions like NADT, Nagpur, Nalanda Dance research centre, Vile Parle etc.
Documentation
Keli has published two books "Naatya Védathilé Prathapa Mudrakal" documenting the life and work of some of the prominent masters of a variety of art forms and another and ''Abhinethri" by Usha Nangiar on the female presence in Koodiyattam. These works exemplify the creative impulses that Keli represents.
Senior Maestros whom Keli felicitated in the Keli Festivals
Veera Shrunghala
Padma Bhushan Ustad Zakir Hussain (Tabla)
Padma Vibhushan Dr. M. Balamuralikrishna (Classical Music)
Padma Bhushan Pandit Ram Narain (Sarangi)
Pallavoor Appu Marar (Thayambaka)
Padma Shri Dr. Kanak Rele (Mohiniyattam)
Kalamandalam Sathyabhama (Mohiniyattam)
Padma Bhushan Prof. P.K.Narayanan Nambiar (Mizhavu)
Chakkamkulam Appu Marar (Melam)
Kalamandalam Appukutty Poduval (Maddalam)
Padma Bhushan Kuzhur Narayana Marar (Thimila)
Aliparambu Sivarama Poduval (Thayambaka)
Padma Vibhushan Dr. Semmangudi Sreenivasa Iyer (Karnatic Vocal)
Padma Bhushan Ammannur Madhava Chakyar (Koodiyattam)
Padma Bhushan Keezhpadam Kumaran Nair (Kathakali)
Golden Conch
Sadanam Krishnankutty (Kathakali)
Padma Shri Malavika Sarukkai (Bharatanatyam)
Kelath Aravindakshan Marar (Melam)
Padma Shri Kalamandalam Gopi (Kathakali)
Kalloor Ramankutty Marar (Thayambaka)
Annamanada Parameswara Marar (Panchavadyam)
Padma Shri Gopal Prasad Dubey (Chau Dance)
Padma Bhushan Ustad Zakir Hussain (Tabla)
Padma Shri Mattannur Sankarankutty Marar (Thayambaka)
Nelliyodu Vasudevan Nambudirippadu (Katakali)
Margi Vijayakumar(Kathakali)
Padma Shri Peruvanam Kuttan Marar (Melam)
Usha Nangiar(Nagiar Koothu)
Thrikkamburam Krishnankutty Marar
Pookkattiri Divakara Poduval (Thayambaka)
Arunadyuthi / Lasyasree
Dr. Jayaprabha Menon
Kalamandalam Ramachandran Unnithan
Sudhamsu
Vidyadharan Master (Filim Music)

BrijNarayan (Sarod)
Kummath Raman (Kombu)
Maniyamparambil Mani (Thalam)
Kalamandalam Unnikrishnan (Kathakali Chenda)
Many senior artists who inherit the proud legacy of India 's performing Arts were honored with The Silver Conches.
Association with Prithvi theatre
Keli is fortunate to associate for the one and half decades with Sanjna Kapoor and Prithvi Theature who walked hand-in-hand, motivating us to reach out for the skies.
Our Supporters
Keli has received extensive support from Ministy of culture ,Govt. of India and the lion-hearted corporates
ONGC, Union bank, Axis Bank, IOC, ANZ Grindlays Bank, Orange, HPCL, BPCL, Godrej Sara Lee, Bajaj, Lawkim Ltd., Dr Y K Hamied Foundation, Central Bank of India, Air India, Life Insurance Corporation of India, LIC Housing Finance Limited, RCF, Opel Asia, JK Cement and Chemtrols
who were as passionate about our mission as we were and became the means to our larger purpose.